AW CBC
Redefining Corporate Excellence
As the world gets more interconnected and globalized, so does the world's economies and corporate environments. This interconnectedness can create numerous challenges when it comes to cross border and international business transactions. AW Cross Border Center acts as an International Debt Management provider to foster and nurture such challenges into opportunities with its set of innovative solutions.
International Debt Collection
Be it the fact that laws and regulations change from one country to the next or the fact that defaulters are employing more complex tactics, it is clear that corporates need a partner that can deliver results, employ innovative and fair strategies and offer end-to-end support anywhere in the world.
Seeing the need for such an international corporate solution, AW CBC was established as AW HOLDING INTERNATIONAL'S strongest arm – a control center that offers 12 years of in-depth experience, coverage that spans over 150+ countries, professional associations that include access to over to specialized consultants, and a suite of holistic corporate solutions that is tailored to every requirement and designed to achieve every corporate's global vision and goals. AW CBC also offers individuals a dedicated team and a host of solutions aimed at supporting them every step of the way, everywhere around the world.
As an industry leader, AW CBC is proud to be associated with the industry's most notable organizations and networks, including FENCA, IACC, LIC, ICE and many others. We are also ISO 9001:2015 certified and in compliance with all other relevant international and local standards. 
 
AW CBC boasts a clientele that spans Government and Semi-Government entities along with the largest and leading national and international companies in several industries which include but are not limited to:
AW HOLDING INT'L CORPORATE HOLISTIC GEAR
AW Holding INT'L team of 190+ top-tier specialists and consultants brings 25+ years of international and regional market expertise, global best practice and a break through holistic approach to debt management, legal debt settlement, cross border services, credit & risk advisory and professional translation. Beyond AW HOLDING INT'L'S end-to-end suite of solutions, AW Marketplace offers corporates seamless integration between our regional and international branches.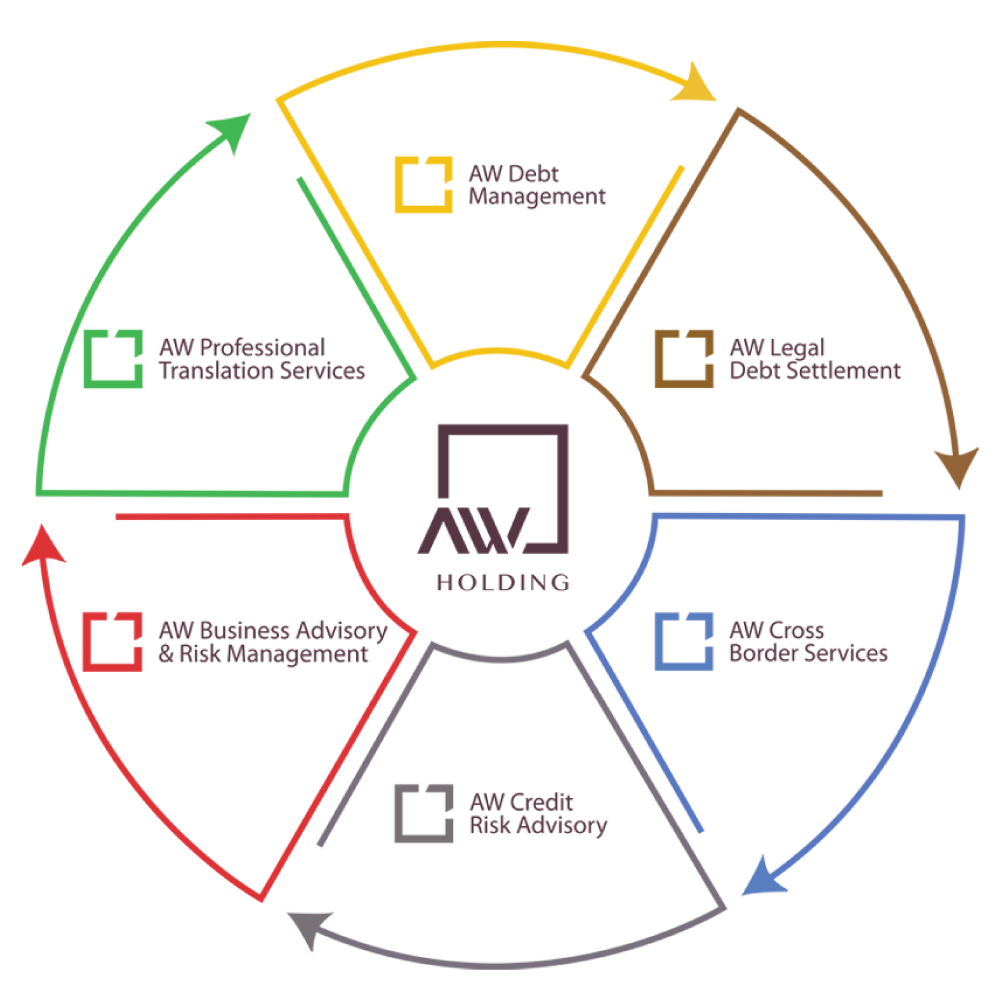 HOLISTIC END-TO-END CORPORATE SOLUTIONS
main